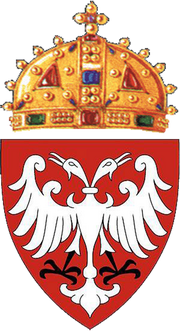 The coat of arms of Serbia is based the family arms of the former Nemanjić dynasty (adopted in 1164). An ermine cape of the style once worn by kings is featured in the background. The double-headed eagle has been used since Byzantine era.
The coat of arms consists of a double-headed eagle on a red shield with the crown of Nemanjić above the shield; its body, eyes, beaks and wings in silver, and claws in black.
Red colour of the shield represents blood; silver represents freedom; and black represents the eternal war for freedom of the Serbian nation.